Recent Projects and Events

Taking
LEGO®

to the streets
BASKETBALL Maui camp
This brick project took a few months in the planning. The idea was to create something unique that would enhance the basketball program and create a fun 'prop' that would get attention and add value. During the week long camp, kids get to develop their basketball skills, learn positive character traits and see professional athletes showing off their talent.
Every year, the talent of Kenny Dobbs ( 'Slam Dunk' Champion) entertains the audience with his amazing skills and slam dunks. This year, the idea was to add another fun element and the perfect prop would be a life size LEGO® basketball player to dunk over. Kenny Dobbs wowed the crowd when he jumped over him and dunked the ball. It was a fun sculpture for kids and parents alike to see and take photos with too! It was also an honor for me to create something so fun, in representing Basketball Maui and all the great things they do for kids!
2019 Sports Camp -
LEGO®

STYLE!

Every year during the summer we look forward to p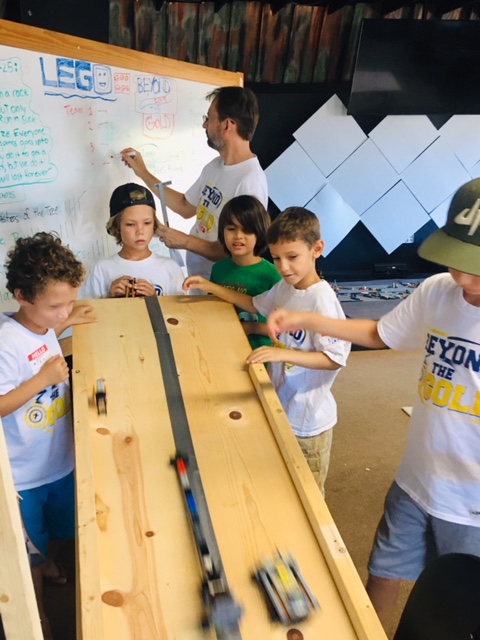 articipating in Hope Chapel's week long Sports Camp here on Maui. It is an exciting time where over 300 kids come together for fun, sports, activities and Christian fellowship. This is the second year we offered LEGO® as an activity at Sports Camp along side various other sports and activities: art, drama and cheerleading. We keep the numbers to 20 campers and it fills up fast! This year we brought back some of the fun creations and challenges from last year including the 'Zip-line', 'egg-drop', 'tower building challenge' and 'car racing'. We added a few new activities such as: 'collaborative marble run' and the 'technic LEGO® only tower build' as well as golf club building. We all had fun and challenged the campers to work together, share ideas and get creative!
A couple highlights were the 'minifigure' reveal. This is where each camper tries to guess what LEGO® Minifigure they have in their sealed packs. Each camper enjoys seeing the reveal and a great keepsake for each. Also, the Lego hat making! Each camper received a hat that they could decorate with some of their LEGO® creations: With glue guns, sharpies and a lot of Lego bricks and pieces, the kids creativity came out!
If you have an idea for a camp or want to start one, send me a note and I would be happy to give ideas and even set up the curriculum for you. Camps using LEGO® are so much fun and always a hit with the kids!
'Car Racing at Sports Camp'
Giving back with 30 lbs of
LEGO®

.

We had so much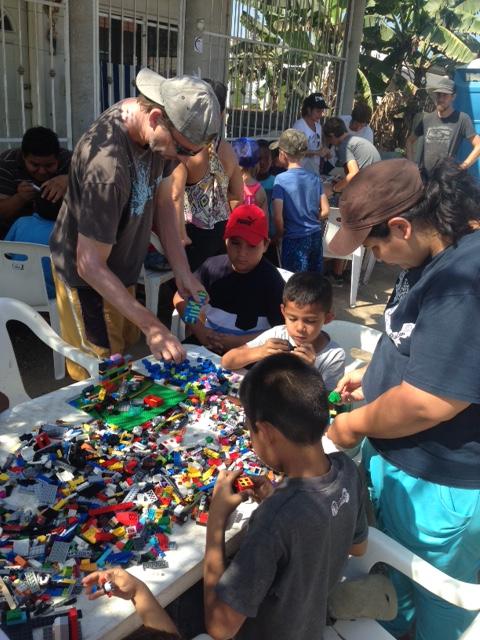 fun on our first trip down to Mazatlan with YWAM (Youth With a Mission) and Homes of Hope; working with the neighborhood kids, in March 2017, that we brought more LEGO® over the Christmas Holiday in 2017. For most of these kids, it was their first time building with LEGO®. Many young eyes lit up with excitement as they got to build with endless amounts of LEGO® parts and bricks. They each had their names built out of LEGO® bricks and at the end of the build they got to take home their creations and share them with their family. I was honored to be part of the team that went down to Mazatlan. With Homes of Hope, our team got to build a new and much needed home for a very grateful family, and the kids were able to learn and build with 30 pounds of LEGO®!
© Copyright Brickhaus designs 2019
DISCLAIMER: not intended for small children. LEGO®is a trademark of the LEGO Group of companies which does not sponsor, authorize or endorse this site or my mosaic art".